Welcome to the Tsubasa Chronicle Wiki!

The Tsubasa Reservoir Chronicle fansite database that anyone can edit, and you can help.
We would greatly appreciate any contributions, as long as the information is as accurate as possible.
Before contributing to our site please refer to the RULES first.
Warning! This site contains major spoilers. Read at your own risk!

Be warned that certain content on this wiki may not be suitable for viewers under the age of 13.
♣♣about♣♣ tsubasa
here are some facts that you ought to know before getting into TRC:

Tsubasa uses characters from CLAMP's previous works, a literary device known as "crossover".
These characters however differ from their original stories, as TRC is a whole new series on its own.
Tsubasa has a sister series, xxxHolic. The plots of the stories are deeply intertwined and characters have been known to cross between the two.
Tsubasa is NOT the sequel or continuation of Cardcaptor Sakura.
King Clow IS the same from Cardcaptor Sakura.
"Syaoran Li" and Watanuki from xxxHolic are NOT brothers.
Syaoran's parents ARE NOT from Cardcaptor Sakura.
Mokona (Soel or Larg) were created by Clow Reed and Yuuko Ichihara.
Not related to Captain Tsubasa.

Help by editing this list.
Featured media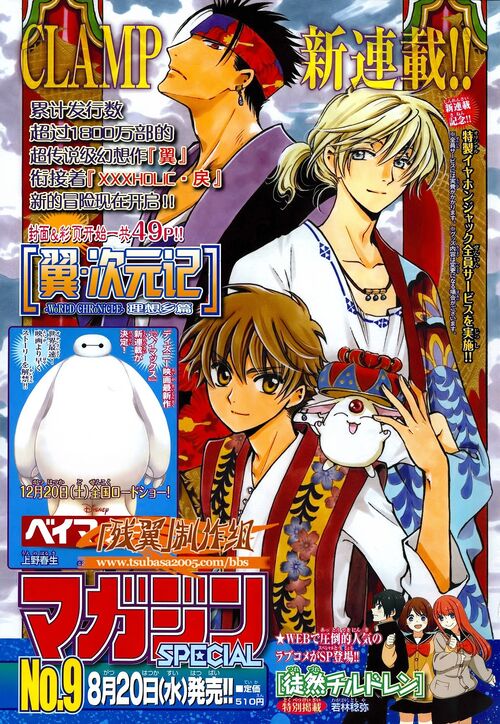 The August issue of Kodansha's Magazine Special (#9), with a new promo for Tsubasa WoRLD CHRoNiCLE Nirai Kanai-hen.
We need you!
We need editors to help make articles for
Episodes
Media Information
and much more
It would also be great if you could help us expand and clean-up all of our existing articles. You can help as much or as little as you want, and no special skills or experience is needed. -Notice! When writing a new article, please check first if it already exists and if the content is not posted on another page. Thanks!
Current Manga Chapter

Tsubasa World Chronicle

December 20th, 2014
No Matter What Lies Ahead


Next chapter to be released on January 20
Find previous chapters in the archive
August's Featured Article

Warning! Spoilers follow below
Tsubasa WoRLD CHRoNiCLE: Nirai Kanai-hen is the title of Tsubasa Reservoir Chronicle's sequel, first announced on July 16th on Shounen Magazine Special's cover (July's Issue).
Quote of the Moment
BLOGS and Site News
Create blog post
Blogs
Hello World!!

Kitsunes97 and I have just taken over admin duties for this Wiki! To celebrate I have released a new set of achievements. You can get them by making edits on Manga Chapter articles.

Read more >

Hello anyone who bothers to read this!

It has been four long years, but my interest in Tsubasa has recently been rekindled. I'm a pretty fickle person so I make no promises about how long I will be st…

Read more >

I am really confused with the new manga chapter links. Someone changed them so that they say Chapter instead of Chapitre..so now all of the summaries for them have been deleted and I have to write ne…

Read more >
See more >
Affiliates and Other Web Links
Wanna Be Here? Affiliate to Us!
Rules for Affiliation:
CLAMP-Related pages.
Moderate quantity of content.
If the site is a wiki, it must also be related to CLAMP.
Fansites and fanlistings approved.
If your site meets the requirements, you can leave a message to the admins or in the talk page.** Thanks!

Tsubasa RESERVoir CHRoNiCLE is © CLAMP. All Rights Reserved. No copyright infringement intended.
All contributions to Wikia are released under the GNU Free Documentation License. See Wikia copyrights for details.