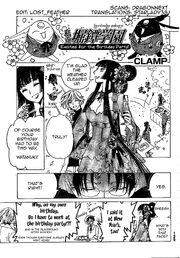 Horitsuba Private High School: Excited for the Birthday Party!
Release date: May 20, 2010
On the magazine: Magazine SPECIAL
This omake starts off with Yuko and Fai. Yuko says she's glad because the weather cleared up, although Watanuki's really upset because he has to work in his own party, after school and even when everyone went home. But Yuko tries cheering him up by saying that he's getting help this year from the twins (Syaoran and Syaoron), he's even more upset when he sees Doumeki munching and doing nothing else at all. Kurogane and Yuuy come with the cake, after all they're celebrating four birthdays today, on April 1st: the twins, Watanuki and Sakura. Fai yells at Kurogane saying that it's amazing that he brought the cake and not dropped it. Then Himawari and Sakura appear in bridal costumes. Syaoran blushes at the sight, Sakura feels embarrased while Watanuki compliments on Himawari for her dress
Yuko says he's got no dating experience, but Watanuki replies to her saying that he and Syaoron are the same. But Syaoron startles everyone when he says that he's dating someone, and a great silence emerges.
Syaoron continues trying not to give much attention to this subject, moving on to cut the cake. Another peaceful day in Horitsuba ends.