Loop is the first ending theme of Tsubasa Chronicle (anime).
Music and arrangements: h-wonder
Lyrics: h's
Performed by: Maaya Sakamoto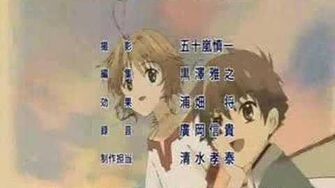 nee kono machi ga yuuyami ni somaru toki wa
sekai no dokoka de asahi ga sasu
kimi no te no naka sono hana ga kareru toki wa
chiisana tane wo otosudarou
fumi katamerareta tsuchi wo michi da to yobunonaraba
me wo tojiru koto demo ai kana?
kono hoshi ga tairanara futari deaete nakatta
otagai wo tooi sageru you ni hashitteita
supiido wo yurumezu ni ima wa donna ni hanaretemo
meguru kiseki no tochuu ni mata mukai au no darou
nee kono machi no yuuyami ga sari iku toki ni
kono namida tsuretette
katarikaketekuru moji wo shousetsu to yobu no nara
todokanai kotoba wa yume ka na?
yodomi naku nagareteku kawa ni ukabeta konoha de
umi wo mezashite kumo ni natte ame de furou
tooi kimi no chikaku de ochita tane wo sodate you
chigau basho de kimi ga kizuitekureru to ii n dake do
kono hoshi ga taema naku mawaritsuzuketeiru kara
chiisaku aketa mado no soto keshiki wo kae
watashi no aishita hana sotto mebaeru kisetsu de
meguru kiseki no sono hate mata mukaiau no darou
mukai au no darou
kururu mawaru kurukuru to
kuru kuru kimi no mawari wo
English translation
Edit
Hey, while this town is covered by twilight,
The morning sun is shining down somewhere else in this world.
As that flower withers away in your hand,
A little seed probably falls into the ground somewhere.
If the trodden soil is called a path,
Then is shutting my eyes love?
If our star was flat, the two of us wouldn't have met.
We were running without slowing down,
As if from each other. No matter how far apart we are now,
We will surely face each other again in this revolving miracle.
Hey, when the twilight passes from this town,
Take my tears away too.
If a story of words is called a novel,
Then are these words that can't reach it my dream?
Carried by fallen leaves floating in the river that flows without faltering,
Became clouds with the sea and fell with the rain,
I will raise this seed that fell near the distant you.
If only you would notice me from your distant location.
Because our star revolves without stopping,
The sceneries outside the tiny opened window,
And the flower I loved, we will surely face each other again,
In this revolving miracle, in this sprouting season,
We will surely face each other again.
Round and round I go,
Round and round around you.
Ad blocker interference detected!
Wikia is a free-to-use site that makes money from advertising. We have a modified experience for viewers using ad blockers

Wikia is not accessible if you've made further modifications. Remove the custom ad blocker rule(s) and the page will load as expected.