Kaze no Machi e is the 9th track in the OST, Future Soundscape 2.
Music, arrangements and lyics by: Yuki Kajiura
Performed by: FictionJunction KEIKO
Dubbed Version Performed by: Stephanie Young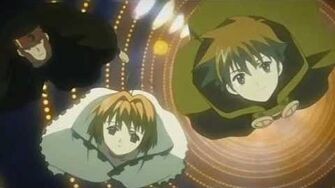 toki no mukou kaze no machi e
nee, tsureteitte
shiroi hana no yume kanaete
amai yubi de kono te wo tori
nee, tooi michi wo
michibiite hoshii no
anata no soba e
sono utagoe taenai hirusagari
mezamete futari wa hitotsu ni nari
shiawase no imi wo hajimete shiru no deshou
tsureteitte...
sono utagoe setsunaku takaraka ni
subete no kokoro ni hibiku no deshou
shiawase no imi wo shirazu ni nemuru yoru ni...
mada shiranai yume no mukou
nee, tooi michi wo
futari de yukeru wa
kaze no machi e
English translation
Edit
To the town of wind on the other side of time
Come on, take me there
Make my dream of white flowers come true
Take this hand with your sweet fingers
Come on, I want you to lead me
On the distant road
To your side
That singing voice won't cease in the afternoon
Together we wake to become one
We will know the meaning of happiness for the first time
Take me with you...
That singing voice will heartrendingly and loudly
Echo in every heart
Never knowing the meaning of happiness when they sleep at night...
The other side of our dreams are still unknown to us
Come on, together we can go
On the distant road
To the town of wind
Ad blocker interference detected!
Wikia is a free-to-use site that makes money from advertising. We have a modified experience for viewers using ad blockers

Wikia is not accessible if you've made further modifications. Remove the custom ad blocker rule(s) and the page will load as expected.